I'm a HUGE fan of training methods you can use any time, any place, with minimal equipment.
That's why (in addition to kettlebell training) I love body weight workouts for fat loss and overall conditioning.  When you've mastered the body weight basics, you'll really never have an excuse to miss a workout again.
Check out this body weight "ladder" workout now by watching the video below – or keep reading for the full article:
My schedule is probably as crazy as yours, and I still manage to consistently work out six days per week.  Here's what a typical weekday looks like for me:
4:45 am – wake up, eat breakfast, get ready for the day, head to my training center
6 am – 9 am – train (conduct group and private training sessions)
9 am – 12 pm – meet, talk, plan, etc. w/ employees, vendors and contractors, answer emails, make phone calls, work on various projects, write blog posts/email newsletters
12 pm – 3 pm – run home, eat lunch, workout, read, try to take a quick nap :), head back to the training center
3 pm – 4 pm – meet, talk, plan, etc. w/ employees, vendors and contractors, make phone calls, answer emails
4 pm – 7 pm – train (conduct group and private training sessions)
7 pm – 9:45 pm – head home, eat dinner, family time
9:45 pm – go to bed and get ready to do it all again the next day …
(For years I actually did this six days per week … and I trained nine or ten hours per day instead of six or seven!
But now that my business is growing and I have more help, I follow the above schedule Monday through Thursday.  Fridays I typically work for a few hours from my home office catching up and working on various projects, and about three Saturdays a month I'm in to train for a few hours and/or do workshops or special events at our training center.)
Now, I make a HUGE effort to follow this routine to a "T". I know that the closer I can follow a schedule, the more freedom I'll actually have … when work time "bleeds over" into off time is when I run into trouble.  (Seems strange at first thought … but when you think about it, it's true.)
But I'm not perfect 🙂 Sometimes I get off track and my mid-day workout/lunch break is shorter than I'd like.  However – I STILL never miss a workout! And this is largely because I know how to get a killer workout in 20 or 30 minutes with just my own body weight.
(I use kettlebells a lot in my training, too – but that's a post for another day …)
Body Weight "Ladder" Workout
I know you're busy and short on time, too … and you might run into a similar situation as me where you only have 20 or 30 minutes but still need to get a workout in. Check out this video for one of my favorite body – weight based "express" workouts … you can knock it out in about 20 or 30 minutes, and all you need is your own body weight and a pull up bar: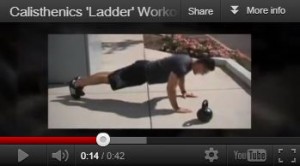 In conclusion, body weight – only training is the way to go if you have limited time to work with and your goals include fat loss and total – body conditioning.  Probably a lot like you, I have a crazy schedule … and I rely a lot on body weight training (in addition to kettlebell work) to keep up my workouts in a pinch.  The workout in the video above is a great one to get you started.
Thanks for reading, and talk soon –
Forest
PS – Over the next few days, I'll have:
More body weight workouts and videos
Training tips on how to master and refine the basics (pull ups, push ups, etc.)
And a lot more coming your way.  Keep an eye on your inbox … and if you haven't signed up for my email newsletter, make sure to do so now by dropping your best email into the box at the upper right of the page!