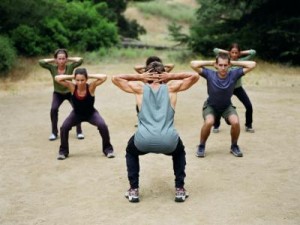 BodyWeightStrengthTraining.com is about two months old and is off to a great start –
So far I've mostly covered 'one-off' – type workouts, exercise descriptions and training tips. However, based on your recent feedback, this post is going to go in a slightly different direction –
I've put together a full six week long body weight – only training program to help you lose fat, get in great condition and build some strength as well.
This training program will be covered in two separate posts; there are two different workouts you'll rotate between on alternate days throughout the program, so I'll cover the first workout in this post and the second one in part two.
Body Weight – Only 'Blast Off' Conditioning Workout A
Exercises in each circuit/pair are to be performed back-to-back without rest. Upon finishing both/all exercises in each circuit/pair, rest 30-60 seconds as needed and repeat two more times for a total of three sets of all exercises in the workout.
Exercise Pair 1
Push Up (or variation like Feet Elevated Push Up, T-Push Up, etc.) – 12 reps (pick a hard variation for you – where you reach a couple reps short of failure at 12 reps)
Pull Up or Body Row/Fat Man Pull Up – 8 reps (again, pick a variation that allows you to work to a couple reps short of failure)
Exercise Pair 2
Body Weight Squat – 20 Reps
Body Weight 1 Leg RDL – 12 Reps (ea leg)
Cardio Circuit Finisher
Alternating Backwards Lunge – 12 reps ea side
Mountain Climber – 20 reps ea side
'Reverse' Sit Up (focus on 5 sec. eccentric phase) – 6 reps
Repeating Squat Jumps – 10 reps
If you're short on equipment or just want a new workout to bust you out of your current fitness plateau, get started on this six week body weight – only training program.  Train hard and talk soon –
Forest
P.S. For more great body weight training workouts like this one, sign up for my weekly newsletter (and grab a free preview of my body weight – based workout system 'No Gym? No Excuse!') – just drop your name and email into the box at the upper right of the page to do so now!